Welcome to Hashir Clinics for Tinnitus , Hyperacusis & Misophonia UK-wide and International therapy from distance via video call
Do you experience tinnitus, hyperacusis or misophonia?
Discover how Hashir clinics can help you with tinnitus, hyperacusis, misophonia, noise sensitivity, and auditory imagery
About Us
This is the private clinic of Dr Hashir Aazh BSc, MSc, PhD which offers a UK-wide and international consultation and therapy service from distance via video calls. Hashir is an academic and clinical expert in the field of rehabilitative therapies for tinnitus, hyperacusis and misophonia for children and adults in the UK. A recent study that assessed patient's views about the effectiveness of therapy for management of tinnitus, hyperacusis and misophonia showed that 85% of patients ranked their treatment as very effective (click here for details). In addition, a significant number of parents have been delighted with the improvements their children make during therapy at Tinnitus & Hyperacusis Therapy Specialist Clinics. The focus of the therapy is to help patients to regain their confidence in leading their normal life without depending on any equipment or medication.


Dr. Hashir Aazh was very kind and professional. Highly recommended



Encouraging first appointment which gave me a great deal of hope for the future.



It was a great relief to finally see someone with a comprehensive understanding of misophonia.



Great service and effective treatments. Good value for your money.



I met with Dr. Hashir Aazh once and we continued the rest of the sessions via Skype which was just as excellent and still enabled me to take away the valuable tools I needed. Dr Aazh is very sincere and I have learnt so much about myself through these life changing sessions.



Excellent service. Dr. Aazh is very professional and knowledgeable.



outstanding initial session! many thanks to Dr. Aazh



Outstanding initial session. Dr.Aazh is clearly a skilled clinician with the ability to provide CBT type therapy from an audiologist's perspective given his experience and thorough understanding of Tinnitus.
Highly recommend his professional services via Skype.



I have had 10 sessions of CBT with Hashir. I learned much about myself and the way I react to tinnitus. Hashir is very personable, listens well and has considerable knowledge and experience.



Very informative and engaging



Excellent Service.



Excellent services!



Hashir has really helped me. I didn't think that I'd be able to get through the sessions as I am very busy with work but needed help. He has been very flexible and supportive. I would highly recommend him.



I received 6 sessions of CBT for Hyperacusis from Hashir and have made considerable improvements from the techniques he has taught me. I feel my condition is vastly more manageable and I very much expect to improve further by continuing to practise and implement them. Hashir is very knowledgable on these topics, explains things very clearly and is excellent at focusing my mind to the path of recovery. Highly recommended!



Personable, professional and supremely competent.

To learn more about Hashir's research and clinical experience
Click here
It is a common concern in individuals with tinnitus that if their hearing worsens for any reason it may lead to an increase in the loudness of their tinnitus to a level that they would not be able to cope with. In collaboration with Professor Richard Salvi who is the director of University at Buffalo's Centre for Hearing and Deafness in United States, Dr. Hashir Aazh explored the relationship between hearing loss and tinnitus loudness in over 400 patients. This study has been published in the Journal of the American Academy of Audiology. See the video for details of the study and its results.
Assessment and treatment from the comfort of your own home!
Click here
Podcasts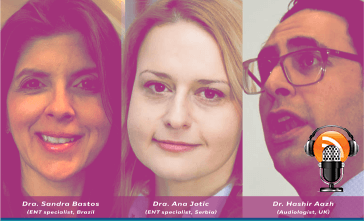 ENT perspectives on Cognitive Behavioural Therapy for Tinnitus
Panellists: Dr. Hashir Aazh (Audiologist, UK), Dr. Ana Jotic (ENT specialist, Serbia), Dr. Sandra Bastos (ENT specialist, Brazil)
This podcast focuses on clinical implementation of CBT methods by ENT (Ear, Nose and Throat) specialists in management of their patients with otological disorders combined with tinnitus. The main topics were (1) clinical management of a patient with chronic suppurative otitis and tinnitus using CBT (Dr. Ana Jotic) and (2) Clinical management of a patient with tinnitus and severe progressive hearing loss using CBT (Dr. Sandra Bastos). Dr Aazh was moderating the podcast.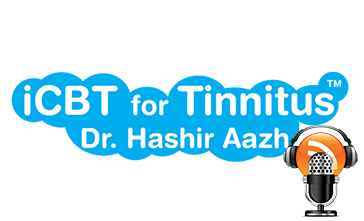 iCBT for Tinnitus (internet-based cognitive behavioural therapy)
Presenter: Dr. Hashir Aazh (Audiologist, UK)
This podcast focuses on the use of iCBT programme which comprises 7 online modules and is aimed at improving access to this evidence-based intervention for anyone who experiences this debilitating condition anywhere in the world. This iCBT for tinnitus programme is as the result of collaborative work between audiologists, hearing scientists and clinical psychologists and is founded based on reflecting on clinical practice and research on this topic. This podcast is recorded during the official launch of iCBT for tinnitus.
News
In Tinnitus and Hyperacusis Therapy Masterclass, Dr. Hashir Aazh shares his clinical methods and research findings with regard to assessment and management of the distress linked to tinnitus, hyperacusis and misophonia in children and adults. The methodology of his approach and the conceptual framework outlined for tinnitus and hyperacusis rehabilitation has been developed based a decade of research and innovative practice by Hashir's tinnitus team. The essence of their approach is based on pragmatically combining methods of cognitive therapy with audiological science.
Dr. Hashir Aazh is organising the International Conferences on Hyperacusis and Misophonia in London with 14 disciplines from 20 countries represented
A New article by Dr. Hashir Aazh on Hyperacusis in collaboration with researchers in the US
Ear and Hearing, November 2020
The aim was to assess the validity and reliability of a new questionnaire for hyperacusis, the Inventory of Hyperacusis Symptoms (IHS). Results showed that this hyperacusis questionnaire has good internal consistency and reasonably high validity, as indicated by the relationship of IHS scores to other measures of hyperacusis. Dr Aazh and his colleagues propose a new criteria for diagnosing hyperacusis.
A New article by Dr. Hashir Aazh in collaboration with researchers in the UK and South Africa on tinnitus and hyperacusis management via telehealth
International Journal of Audiology, October 2020
During COVID-19 lockdown, patients were offered telehealth CBT via video using a web-based platform. This study evaluated the proportion of patients who took up the offer of telehealth sessions and factors related to this. Although CBT via telehealth was acceptable to most patients, alternatives may be necessary for the 20% who declined. These tended to have worse hearing in their better ear and more annoying tinnitus.
A New article by Dr. Hashir Aazh in collaboration with researchers in University of Cambridge (UK) and University of Melbourne (Australia) on CBT for tinnitus and hyperacusis.
American Journal of Audiology, December 2019
The aim of this study was to evaluate the views of patients who completed audiologist-delivered cognitive behavioural therapy (CBT) about (a) the effectiveness of the treatment, (b) the acceptability of receiving CBT from audiologists, and (c) the most effective treatment components. The majority of patients reported that it was very acceptable to them to receive CBT focused on tinnitus and hyperacusis from a specialist audiologist; the median response was 10/10. The majority of patients felt that the CBT was very effective (median response 8/10) and that they were able to manage their tinnitus and/or hyperacusis well (median response 9/10). The effect sizes of treatment based on pre- and post-intervention comparison of scores were large.
A New article by Dr. Hashir Aazh in collaboration with researchers in University of Cambridge and Department of Public Health, Faculty of Medicine, University of Helsinki, Finland on the relationship between tinnitus, hearing loss and insomnia.
International Journal of Audiology, January 2020
It is possible that tinnitus, hearing loss and insomnia are all linked to oxidative stress. If so, there should be a relationship between insomnia and hearing loss among patients with tinnitus. The aim of this study was to assess the relationship between insomnia and hearing thresholds for patients with tinnitus. Seventy percent of patients experienced some form of insomnia. Thirty eight percent of patients had hearing loss. Regression models showed that the average hearing threshold across ears and frequencies (0.5-4 kHz), adjusted for age and gender, did not predict insomnia. The data do not support the idea that high levels of oxidative stress, which are associated with insomnia, have a strong influence on hearing loss among patients with tinnitus.
A New article by Dr. Hashir Aazh on Tinnitus
The Hearing Review Oct 22, 2019 | Tinnitus
Karl E. Strom the editor of The Hearing Review reports on the study Hashir Aazh, PhD, and Richard Salvi, PhD, published in Journal of American Academy of Audiology which shows only a weak association between tinnitus loudness and puretone average (PTA) thresholds. When patients ask an audiologist or hearing care professional if their tinnitus (ringing in the ears) is going to get worse as their hearing loss progresses, what answer do they usually receive? Most hearing care professionals will reassure the patient by telling them that, although it's possible for this to occur, it's generally not a problem they've observed in their practice. Now there is some clinical science to back up this answer. See this paper for more information.
A New article by Dr. Hashir Aazh (UK) and Professor Danesh (US) on Tinnitus distress and childhood adverse events
The Hearing Review Aug 1, 2019 | Tinnitus
Patients who suffer from ringing in the ears (tinnitus) and sensitivity to loud noise could be at heightened risk for suicidal and self-harm thoughts because of their childhood history of parental mental illness. A new study, published in the American Journal of Audiology, is reportedly the first to examine the relationship between parental mental illness such as anxiety, depression, and anger in childhood and the risk of suicidal and self-harm ideations in adults who suffer from these debilitating hearing disorders. Researchers from Florida Atlantic University (US), the Royal Surrey County Hospital in Guildford (UK) , and the Lech-Mangfall-Hospital Agatharied in Hausham (Germany), inform clinicians who treat patients with tinnitus and hyperacusis to consider the patients' parental mental health illnesses and screen for suicidal and self-harm ideations, especially in those who also suffer from depression. Results of the study revealed that among patients seeking help for their tinnitus and hyperacusis, poor parental mental health was associated with the risk of suicidal and self-harm ideations across the life span. The two variables associated with the risk of suicidal and self-harm ideations were patients' childhood history of parental mental illness and their current depression level.
Audiology Today November/December 2019
In a trilogy of studies conducted by Dr. Aazh and an international network of researchers from University of Cambridge, Florida Atlantic University, and University of Regensburg, the relationships among parental mental health and parental separation in childhood and the psychological impact of tinnitus/hyperacusis on the individual in their adulthood have been explored.
WHAT PATIENTS SAY ABOUT US
I was a bit dubious beforehand about treating what I saw as a physical problem with therapy. The treatment I had has made a great difference to the effect that hyperacusis has on me and I am now able to do things and go to places that I could not before.